Lift Chair FAQS
What is the difference between a two-position and a three-position lift chair?
With a two-position lift chair, when the chair is reclining and the footrest is going up, the angle between the backrest and the seat does not change. With a three-position lift chair, when the chair is reclining and the footrest is going up, the backrest reclines back farther, opening the angle between the backrest and the seat. The chair can recline more fully into a "sleeper" or "napper" position.
Some of your chairs have a "split chaise pad" while others are described as having a "full chaise pad." What is the difference?
A "split chaise pad" means there is a gap between the front edge of the seat and the footrest. The gap is covered with a piece of fabric called an apron. A "full chaise pad" means there is one continuous piece of seat foam covered in fabric from the very back of the seat all the way through to the front end of the footrest, providing more support and comfort for the legs when the footrest is raised.
The Owner's Manual says my chair goes into the Trendelenburg position. My doctor recommends this position for me to help improve the circulation in my legs. How do I get to the Trendelenburg position?
Only Golden's patented MaxiComfort chairs move into the Trendelenburg position. It is very easy to get to. First, use the ZG button to move to the Zero-Gravity position. Once the chair has moved to that position, then use the backrest button to move the backrest down towards the floor. When the backrest stops moving, the chair is in the Trendelenburg position.
My hand control has buttons labeled TV and ZG. What does that mean?
Golden's unique AutoDrive hand controls for our MaxiComfort Zero-Gravity lift chairs feature factory programmed buttons for the TV Watching position and the Zero-Gravity position. With the TV Watching position, the footrest raises up and the backrest reclines very slightly, so that your back, neck and head are properly aligned to watch TV comfortably. With the Zero-Gravity position, the chair moves your body into the Zero-Gravity position to help relieve stress throughout your entire body.
Scooter FAQs
How often should I charge my battery?
For daily use of your scooters, your batteries should be fully charged. We recommend that you plug the battery into the charger at the end of a day's use and allow 6 to 8 hours to fully charge. More information can be found in your scooter's Owner's Manual.
The green LED light on my scooter's control panel is flashing. What does that mean?
When the LED light on the control panel flashes, that means there is some type of a malfunction with your scooter. It could be as simple as the scooter being in Freewheel Mode, where it can be pushed instead of driven, or it could be something more complex. The lights flash in a sequence and the flashes should be counted. Then you can refer to your Owner's Manual, or under-carpet Troubleshooting Guide if your scooter is equipped with one, to determine the cause of the malfunction.
I do a lot of gardening and would like to pull a cart behind my scooter through my yard. Is this recommended?
Unfortunately, scooters are not designed for this type of use. Scooters are designed to transport one individual and their personal items, not to exceed the weight capacity of the scooter. It is not recommended to pull a cart or some other type of cargo.
Power Chair FAQs
How can I adjust the headrest on the seat of my power wheelchair?
Adjusting the headrest is done the same way as most automotive headrests. At the bottom of the left post that supports the headrest, push in the clamp while pulling up on the headrest or lowering it. Once you have the desired position, release the clamp and the headrest will lock into place.
What is the difference between center-wheel drive and rear-wheel drive power chairs?
Center-wheel drive chairs, like Golden's Compass series, offer users the most intuitive driving but placing the drive wheels directly underneath the user. Center-wheel drive allows the user to turn the power chair in its own space, meaning that whatever the footrest clears, the rear caster wheels will clear when turning in a complete circle. Center-wheel drive chairs are preferable in tight indoor spaces. Rear-wheel drive chairs have a larger turning radius meaning you need more space to turn the chair in a complete circle or navigate in tight indoor spaces.
HME/Mobility FAQs
How often should I charge?
Daily Users:Charge daily. This applies to anyone who actually uses his or her equipment outside of the home.

Occasional Users:Always be sure to charge before an outing and always after active use. The ideal recharge point is about 50% on a scooter or wheelchair gauge.
How do I charge my MK Batteries correctly?
To properly charge your mobility battery, follow these simple procedures:
- Use the manufacturer's automatic charger for all routine charging.
- Never use an automotive or wet-type charger on gel/sealed batteries. (They'll quickly ruin your battery).
- Never run your battery completely flat.
- Don't "top off" the battery with frequent charging.
What is the proper way to store batteries for the Winter?
Store batteries fully charged. Check them once a month and recharge as needed. Sealed batteries can hold their charge from 6 to 12 months. Remember, if storing your chair for longer than a couple of weeks, it's best to charge the batteries and then disconnect them.
I want to store my MK Gel batteries outside for the winter. At what temperature do the batteries freeze at?
MK Gel batteries can be stored in sub-freezing temperatures as low as -25°F without freezing as long as they are fully charged prior to storage. The self-discharge rate of fully-charged batteries is so low in these conditions that they will not require charging for many months; however, if your gel batteries are frozen … they will not always recover.

To attempt recovery the following is the best plan of action:
Bring them inside and let them sit at room temperature for two days. (They must reach 60°F).
Charge the batteries normally. (Follow standard safety procedures).
Run a capacity check either through a quality discharge tester or by operating your power wheelchair in a controlled environment.
If you don't get enough run time then repeat steps 2 and 3.
Do I have a battery problem or a charging problem?
The Digital Voltmeter is still the most valuable tool in the Mobility Technician's arsenal for sealed batteries. The starting point for checking batteries is always the charge voltage. In 24-volt systems we know the chances for two bad batteries are less than 1 in 10,000. So what we need to determine is WHICH battery is bad or if either battery is bad. This is accomplished by checking the voltage of each battery separately.
As illustrated in photo 1, voltage for a pair of batteries can read in excess of 24-volts which can incorrectly be assumed to be a good set. However, as shown in photo 2 one battery has a voltage of 12.89 volts while the battery in photo 3 is reading 11.97 volts. Combined, the voltage of this set of batteries looks good, but clearly the battery in photo 3 is bad.
Two batteries in a 24-volt system charge and discharge together almost as one 24-volt battery. A wide voltage separation between two batteries indicates that you may need to replace both batteries. If both batteries read similar voltage, they should be fully charged before doing any further testing.
If both batteries are below 12.0 volts, the question becomes, "WHY?" Is the battery charger working correctly? Could there be a problem with the wiring or other components of the wheelchair?
You can determine the next step in the troubleshooting process once you know the voltage of each battery.
My batteries were over-discharged and my battery charger will not start. What do I do?
Have you ever had a customer state that their batteries will not take a charge even though the charger was plugged in overnight? When you checked their batteries, you found that they both read 9 volts? This is usually due to a light or a brake being left on for an extended period of time, which drains the batteries.
The reason why the charger is not working is that most wheelchair battery chargers need to read at least 21-22 volts in order to begin charging. This is how the polarity protection system of many chargers works. If the user were to hook up the positive and negative backwards, nothing would happen to the charger or the batteries because the batteries never read any voltage so it never started.
The drawback to this polarity protection design is when a user over-discharges their batteries below the 21-22 volt cutoff. Although the charger is connected, it does not receive the signal to begin the charging process so the batteries never get charged.
The best way to solve this problem is to remove the batteries from the wheelchair and charge each battery separately with a 12-volt battery charger. When each battery is fully charged, they can then be reinstalled in the chair and returned to service. Note: It may take the batteries up to 15 cycles to return to their former capacity if they have been severely discharged.
How to Choose the Right Personal Mobility Device
When your mobility requires more than just the assistance of a cane or walker, it can be confusing when trying to determine if the most appropriate mobility device for you would be a manual wheelchair, power wheelchair or mobility scooter. There are many factors to take into consideration when deciding if it's time to invest in one of these devices. To begin, it's important to answer the following questions:
 Where it will be used (indoors, outdoors, or both)?
How long will it be used each day?
 Are there any space limitations?
 How will you transfer in and out of your mobility device?
 Do your strengths and needs, both physical and intellectual, support the use of a manual wheelchair, mobility scooter or power wheelchair?
Ramp FAQs
HOW LONG OF A RAMP SHOULD I BUY?
Generally Recommended Slope Angles:
5-degree:  This is Americans With Disabilities Act compliant – click here for more information about Roll-A-Ramp and ADA.
7-degree:  Manual wheelchair users who are independent or who have an attendant with limited strength.
10-degree: Manual wheelchairs with a reasonably strong attendant.
12-degree: Power wheelchairs or scooters and manual chairs with a strong attendant.
15-degree: Restricted space, unoccupied loading/unloading.
Determining Ramp Length:
Measure total rise (how many inches from lower level to upper level) and divide by the slope.
5-degree: Rise distance divided by 1
7-degree: Rise distance divided by 1.5
10-degree: Rise distance divided by 2
12-degree: Rise distance divided by 2.4
15-degree: Rise distance divided by 3
Example: For a desired slope of 7 degrees with a rise of 12″ (1 foot), 12/1.5 = 8 foot ramp
StrongBack FAQ
HOW LONG DOES IT TAKE TO GET THE CHAIR ONCE I HAVE ORDERED IT?
You should receive your STRONGBACK wheelchair in less than 5 business days.
IS THERE A WARRANTY?
There is a FULL 100% warranty on all STRONGBACK wheelchairs purchased through this website if the chair is defective or breaks for any reason. You have an entire year and can choose between a new chair or a full refund
DOES MY INSURANCE COVER ANY PART OF THIS CHAIR'S COST?
All insurance companies are different and all have statements written into their policies of whether they will or will not cover wheelchairs and other durable medical equipment. We recommend that you call your insurance company or get a copy of your policy to see exactly what it says about coverage for things like wheelchairs.
HOW EASY IS IT TO GET INTO AND OUT OF THE CHAIR?
We have kept ease of entry and exit in mind when designing this chair. The footrests can either swing around and away or be removed completely. The curved waterfall front of the seat not only prevents leg pinching, but also provides a level area where you can sit before fully entering or exiting the chair. The correct seated posture encouraged in a STRONGBACK wheelchair places the user in a position of strength where it is much easier to stand up – in normal wheelchairs the poor seated posture forces the user into a slouched position making it more difficult to stand and unfold the body into an erect position.
WHAT IS THE EASIEST WAY TO FOLD THE CHAIR UP
You will first want to fold down the back and then pull up on the center front and back of the seat fabric.
WHAT SIZE SEAT SHOULD I BUY?
We have three seat sizes available in most models. The smaller seat measures 16"/40 cm across, while the regular measures 18"/45 cm across, and the large measures 20"/51 cm across. Obviously a larger person will need the larger seat. The smaller seat width, however, makes a smaller overall chair, which maneuvers more easily in narrow places such as a restaurant or around furniture in your apartment at home, so you may want to choose the smallest size that still works comfortably for you.
HOW MUCH IS SHIPPING?
Shipping is FREE! in the continental USA. All other areas, please call or e-mail for a shipping cost quote.
ROLL - A- RAMP
Roll A Ramp FAQ
Q: Why should I buy a
Roll-A-Ramp® over some other product?
A: There are many reasons why Roll-A-Ramp® is the premiere choice for portable, van, and home ramps.
a) Versatility. Unlike other products on the market, the Roll-A-Ramp® is much more versatile and can be used in more situations, for more uses. You can add additional length by simply attaching extra sections. This means you never have the wrong size ramp! It can be changed and reconfigured to meet your exact need.
b) The width you need. Ramps come in the following widths of 12" (sold in pairs), 22″, 26", 30", 36" and 48″ wide.
c) Rolls up – easy to use and store. Stores in very little space – no need to wrestle with heavy folding ramps that are hard to handle.
d) Multiple ramps in one: Any Roll-A-Ramp® can be quickly and easily split into different length sections. The section can be used as a shorter additional ramp.
Q: Which width should I choose?
A: If using the ramp for wheelchair or scooter access, measure the wheelbase of the chair (inches from outside the left wheel to outside the right wheel). Determine the right ramp width for your needs.
Q: How much does the ramp weigh?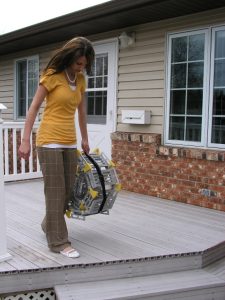 A: Since the ramps can be any length, and you can add links if you need to, use the following to determine the weight based on the width of the ramp you need:
48" ramp – 8 pounds per foot
36″ ramp = 7 pounds per foot
30″ ramp = 5.5 pounds per foot
26″ ramp = 5 pounds per foot
22" ramp = 5 pounds per foot
12″ ramp = 4 pounds per foot
Q: What is the Roll-A-Ramp® made of?
A: Our ramps are made from aerospace 6061-T6 aluminum. The same material military jets are made of, the highest quality aluminum raw material available. It is hardened to the Rockwell Hardness factor of T6 which means it has the hardness of steel. Plus, it is anodized which makes it stronger, last longer, prevents corrosion and makes for clean handling.
Q: How much does the ramp cost?
A: Pricing will vary based on what you order, but plan to spend around $110 per foot for portable roll-up ramps. For example, our 2018 pricing guide lists an 8′ X 30″ ramp as costing $877 plus $91 shipping. This ramp will weigh 46 pounds.
Q: If I purchase a Roll-A-Ramp and it doesn't work for me can I return it?
A: We strive to make sure our customers get the right ramp during the initial purchase, but we also understand that at times our ramps will not be the right solution for everyone. Returns are generally accepted with a nominal restocking fee if the ramp is in re-sellable condition. Shipping costs are not refunded.
Q: Can you custom make a different width?
A: No – We are not able make custom widths.
Q: Does Roll-A-Ramp meet ADA guidelines?
A: Roll-A-Ramp® is unique because it can be built to any length. Roll-A-Ramp® is flexible in that it can be built to ADA specifications 12:1 (1′ of ramp per 1″ of rise). However, this length is typically not needed in most locations nor is it feasible in most home locations. Ramp length will depend on your situation and your individual need. Because it is a portable ramp, it is not required to comply with ADA guidelines
Q: How does the ramp stay in place?
There are three options:
Approach plate and link: Each ramp comes with an approach plate on each end. The approach plate and one link of the ramp should be on the top of the ramp so that the weight of the ramp is secured to the destination surface.
Heavy-duty approach plate: A heavy-duty 6" approach plate may replace the standard upper approach plate, which is included on all ramps. This piece is made of steel instead of aerospace aluminum and is designed to bear weight. If space on the destination surface is limited, this can be a great solution – although it will add about 10 pounds and some additional cost.
Z-Mount brackets: These Z-shaped brackets (also called Seg-Mount brackets) can be attached to the front of the top stair or destination surface. The standard upper approach plate slides into the brackets making the ramp level with the destination surface.
Q: Does the ramp come with approach plates?
A: Yes. Approach plates make it possible for wheelchairs, for example, to smoothly get on and off the ramp. All ramps come with a standard approach plate on the top and bottom and both are included in the overall length of the ramp. For example, an 8' ramp will be comprised of a 6" standard approach plate on the top and and another one on the bottom and 14 links. An 8' ramp (with two 6" approach plates) will have 7' of usable ramp.
Q: Do longer ramps need extra support?
Ramps that are 11' and longer need support stands. The stands should be placed at 6-7 foot increments. Ramps of this length without support stands will not have the 1,000 pounds capacity and may feel springy when used.
Trus -T- Lift FAQs
What is the difference between and elevator and a lift?
The main difference between an elevator and a lift is that an elevator can operate with automatic one touch controls where a lift must be constant pressure operation requiring the user to maintain pressure on the floor selection button to keep the lift moving.
What design or safety codes apply to these types of products?
Depending on the application the Trus-T-Lift can be configured to meet ADA, ASME A18.1, CSA B613, CSA B355, ASME A17.1 section XX and XXI. The RAM Crystal product can also be configured to meet the above codes and in addition can be configured to meet ASME A17.1/CSA B44 Part V, which includes LULA (Limited Use\Limited Application) elevators for commercial buildings under 25ft travel and Private Residence elevators up to 50ft of travel. For guidance on how to proceed in determining your local needs please see
What should I be looking for when considering which type of elevating product (Lift or Elevator) to use?
A lift typically meets a specific need to provide wheelchair access in a home or commercial building where an elevator is often installed as a feature in multi-story homes adding the convenience of moving people and freight in a safe manner. An elevator will offer faster speeds (up to 50FPM), taller lifting heights (50ft Travel), and higher lifting capacities (up to 1400lbs). Elevators also can be customized to fit in a range of available spaces and offer a wide range of car finishes. The added features of an elevator can certainly bring a good architectural finish to a home but there is a cost for this. If you are looking for the mobility and a smaller price tag our lifts can be enclosed in a shaft as well.
What should I be looking for when considering what brand of elevating product to use?
When looking at lifts, it is important to consider the ease of which a lift can be installed in your home or building. Lifts requiring minimal modification can be relocated easier at a later date should the owner no longer require the lift or would like to take it with them when they move. An elevator is typically installed for the life of a building and consideration should be given to operational/maintenance costs and environmental factors, such as machine noise and unpleasant fumes/smell coming from the elevator lifting mechanism. Many elevators also occupy additional costly floor space in your home or building to locate the driving machines. When adding an elevator to an existing building pit depth and overhead clearance in the shaft can add major costs to the site preparation.
How can I obtain a RAM Lift or Elevator?
RAM works with a multi-channel distribution network that services almost all of Canada and USA. In cases where you need some assistance with an installation a local dealer is really the best option. In the case where we don't have dealer near by you can also purchase directly from us (the manufacturer) and we can help you determine if you are up to installing the lift yourself or if you need a local contractor to assist you. Contact us today if you need some help finding a dealer or need a quote.
Where can I get more information on RAM products?
Our webpage is an excellent source of information but if it all seems a little over whelming please don't hesitate to contact us so one of our customer service representatives can work with you.
What is the difference between a commercial lift and a home or residential lift?
A commercial lift typically requires a number of additional features to meet public or commercial building codes. Although a particular inspector or local authority may require more the typical additions for a commercial lift are: Upper landing gate, carriage gate with lock, solid platform with safety plate, control wall extension, solid hand rail, 18″ toe plate ramp, emergency alarm with light, and a lower keyed remote call station. For lifts with travel heights exceeding 60″(US) 96″(CDN) commercial lifts must be installed in a fully enclosed shaft with full height door at the lower landing.
What is a LULA elevator?
A LULA (Limited Use/Limited Application) elevator is a special type of elevator that operates and looks like a commercial passenger elevator but is limited to a travel height of 25ft, a max weight capacity of 1400lb, and a maximum speed of 30 ft/min. The other major difference is that a LULA, if it meets your needs, can cost less than 50% of a standard commercial elevator.
What are 'soft touch' controls?
"Soft Touch" Controls are a patented design by RAM to allow people with limited mobility to more easily interact with one of our Trus-T-Lift products when trying to move it up or down. In essence, it requires very little strength to start the platform and this can be very important in cases where someone has limited use of their hands.
What is a 'zero load' start on a lift and what is it for?
A "zero load" start is one where the motor and drive system have an opportunity to start spinning before any engagement of the platform or "load" that a person rides on. This is very important when trying to ensure long reliable life from the drive systems and the electric motor. RAM has a patented method accomplishing this task and it also ensures that lift that are installed in cold weather are reliable and ready for use down to -35C. You can also see how this works in the video that shows the Trus-T-Lift drive system
What does the weight rating mean in the RAM product?
The weight rating of a RAM product means that you can have a total weight of people and equipment in addition to any of the options you outfit on your lift. So, if a rating says 750lb on the equipment then no matter whether you have a solid platform with safety pan or just an expanded metal platform the lift will still raise 750lb. That being said the design functions best when you load the lift from the center as opposed to offset (for instance your elderly 110lb person near one edge and a 400lb person at the other is not recommended)
How many Trus-T-Lift units does RAM have installed to date?
RAM has been manufacturing lifts for over 25 years and has thousands of lifts in services all over North America. The total just keeps getting bigger every year.
Why does the size of platform matter on a lift and how big a platform does RAM offer?
Platform size is important as it will allow you and your wheelchair or an attendant if necessary to ride the lift comfortably. RAM offers a wide range of platform sizes with a standard size of 34″ x 54″ for the Trus-T-Lift. Please contact our office for information on our full platform size range.
Why does RAM offer an expanded metal platform rather than a solid platform and where can that be used?
The expanded metal platform is a practical and sensible alternative to protecting the area underneath the platform and is code compliant for residential use in some North American jurisdictions. Essentially the expanded metal platform gives the user full visibility of the area underneath the platform allowing them to stop the carriage should they notice an object in the travel path. It is comparable to driving a power wheelchair or scooter where the driver must be aware of persons and or objects in their travel path.
Where can I use the RAM Trus-T-Lift product?
The RAM Trus-T-Lift product can be used in many applications such as home porch lifts, schools, churches, community centers, commercial buildings, both inside and outside, for flood location applications where your house or building is on stilts, in extreme climates such as the Canadian North and Coastal Areas of the USA.
Does RAM offer a battery back-up system?
Yes, RAM has a very advanced power back-up system called the "Tower of Power". This is one of the most robust power back-up systems on the market and we'd love to tell you all about it….just contact us.
What are the benefits of RAM's battery back up system over others?
RAM's Tower of Power provides full operation of your lift (30 to 40 full load cycles) during a power failure for longer than then any other lift on the market. It is also the most reliable system as it will automatically switch over to building power when the batteries "die". This means you never get "stranded" on your lift or elevator and you get an immediate indication as soon as your batteries become a problem.
What happens if there is something or someone in the way as the platform is lowering on a Trus-T-Lift?
The Trus-T-Lift is equipped with safety systems to avoid causing damage to the system or something beneath the platform for exactly this concern. The platform will come to a stop safely before any damage occurs.
How noisy are these lifts?
The Trus-T-Lift is one of the quietest lifts on the market today. This is accomplished through having a drive system that is very simple as opposed to hydraulic or friction V-belt drives that can stretch causing slippage and belt squeal.
Can the Trus-T-Lift be used in coastal environments that we prone to flooding?
Yes, this is one of the areas Trus-T-Lift excels due in large part to the location of the drive mechanism being at the top of the unit so that as long as the power connection is made at the top then there is no reason why the unit will not be functional even after a flood. We do, however, recommend that in coastal areas you service the lift at least once a year to ensure long life and reliable service….blowing sand and fine dust build up can cause pre-mature wear if not cleaned off the drive system.
What happens if the power stops while I am using the Trus-T-Lift
Every Lift that RAM produces is made with a manual override system that can be used to raise or lower the platform in the event that you have no power available. Even better than that you can also purchase a "Tower of Power" back up system and then you never have to worry about that.
What do inspectors do when it comes to a commercial lift application?
Many jurisdictions require that you be a licensed contractor to install lifts in commercial buildings. We recommend you contact your local elevator authority to confirm the enforced codes and any additional requirements they may have before proceeding with a commercial lift installation.
Do I need an inspector to approve/inspect my lift or elevator for a home or residential application?
Most jurisdictions in North America do not require home elevators or lifts to be inspected. However there are a handful that do inspect residential installations and we recommend that you contact your local building permit/ inspection authority to confirm what your local requirements are. RAM can, however, make any lift you need for your application.
How often do I need to have my home elevator maintained and/ or inspected?
Depending on the frequency of use we recommend the Trus-T-Lift be maintained and inspected annually. Ask us about having a dealer work with you on a service plan so you know your lift will always be there when you need it.
How big or how much travel can I have on a portable Trus-T-Lift?
Portable lifts are limited to 52″ travel height.
What are the standard travel sizes for a Trus-T-Lift?
Trus-T-Lift comes in standard travel sizes of 28″, 52″, 72″, 96″, 120″, 144″ and 168″.
How should I plan to mount my RAM Tower of Power battery back up system to avoid damage?
RAM recommends that our Tower of Power battery back up system be mounted off the ground, in a ventilated area, not in direct sunlight and not in extreme cold. Best location is in a garage or basement. In flood zones the unit should be above the anticipated flood line.
HandiCare FAQs
Can a stairlift be installed on my staircase?
We offer a wide selection of stairlifts for straight and curved stairs. With a variety of lift models we are able to provide a suitable solution for each setting regardless of whether the stairs are narrow, steep, curved or long, indoor or outdoor. Handicare always has a solution for your staircase.
Does it take major renovation to install a stairlift in my home?
No! The 1100 Straight Stairlift is simply installed onto the stair treads. Because it is fixed to the staircase, you don't have to worry about any further modification to your home
What happens to my stairlift during a power outage?
A power failure is no reason to worry. Your Handicare stairlift will use its batteries to remain operational and can still be used for at least 10 rides up and down the stairs. The 1100 features Constant Charge, providing charging anywhere on the track so it is ready for use 100% of the time.
How do I know when batteries need to be replaced?
The 1100 is equipped with a fault display behind the power pack, simply review the code and call your local dealer who can easily look up the code and inform you if the battery needs to be replaced. Generally the batteries will last for three years depending on usage.
How do I enter and exit from a stairlift?
Entering and exiting the 1100 is made easy, simply unfold the seat and footrest, sit down while securing the seat belt. When it's time to exit your 1100 you can use easily swivel the seat to face your landing for a controlled departure.
Can others still use my stairs?
Compact and ultra slim, the 1100 can easily be folded up when not in use to allow for easy pass-through for family members and friends.